Well, it appears that social media platforms are going to have as many features as possible that are alike or near-alike. For months now, WhatsApp, a popular social media platform for socializing via chats and video calls, has had a few hide features. In the features, you can dictate whether or not someone can see you online, view your status updates, or even see whether or not you have read their texts! Speaking of which, it has spread over to the Instagram platform, and now you may not be in the know of the exact number of likes and views your post got!
Image: Instagram Hidden Likes. Photo taken from TheVerge
Did you think that is all? Wait for it. The past few days have been revealing for many Facebook users with the newest feature in town. It appears that Facebook users and Instagram users are going to share a lot more in common soon. This is after the Facebook team announced that it is going to incorporate the hiding of the 'likes' on each post on the News Feed. This is the same feature that is now being pilot-tested for Instagram in Australia. The result may not be predictable, at least for now, but we are waiting to see how it works out; if it does.
The Beginning of Hidden Likes and Views
Countries like Brazil, Canada, and Australia already have a feel of what this could be like. This is because the Instagram pilot tests were already conducted here, plus some other countries, totaling to seven. This feature works by hiding the likes that were previously shared on the page for the public to see. One look will not tell you the number of likes on a person's post, but the person can view the entire list of viewers on their profile. For the public, there will be shown a list of only a few mutual friends and followers who posted their likes.
So, now this is going to spread over to Facebook; and the reactions are significantly varied. According to Jane Manchun Wong, a renowned researcher of software and apps, the Facebook management had said nothing to the public; she only stumbled upon the signs that the Instagram idea was spilling over to Facebook while going through her Facebook app for Android.
Whether Facebook was planning to roll out a test run for the hidden likes or not, we may never know. Only it appears legit if communication is done upfront so that people are aware of what they are walking into. Facebook declined to make a statement regarding the whole issue when asked about the results of the test run for the hidden Instagram likes.
What if Facebook Follows Suit?
In the recent past, likes on the social media platforms have turned into more than likes. For instance, if a post by person X has one million likes and one by person Y has one hundred likes, the two are not looked at in the same light. It is believed that people with more likes have a more substantial influence than people with fewer likes. That is why it will not come as a surprise that X can quickly transform his page into a business page and get more potential clients than Y. Many likes plus a firm marketing strategy is an essential productivity measure anyone could take.
By hiding likes, Facebook is going to dim some of the bright lights of social media platforms' celebrities. It means that the public will not see the extreme variations in like counts even for the 'socially famous' people.
The likes on Facebook and other social media platforms have been exaggerated over time, making people think that the only way to make a significant breakthrough is by having more like than your competition. And, where did this take us eventually? People went out of their ways to buy likes and followers to appear to have a massive base of followers. The problem came when con vendors took over the market and began to sell fake likes. Fake likes are as good as unfavorable or no likes at all. They are generated inorganically to give you a tweak, but a keen eye can already notice the difference, and it will only be a matter of time before the account comes crashing back down.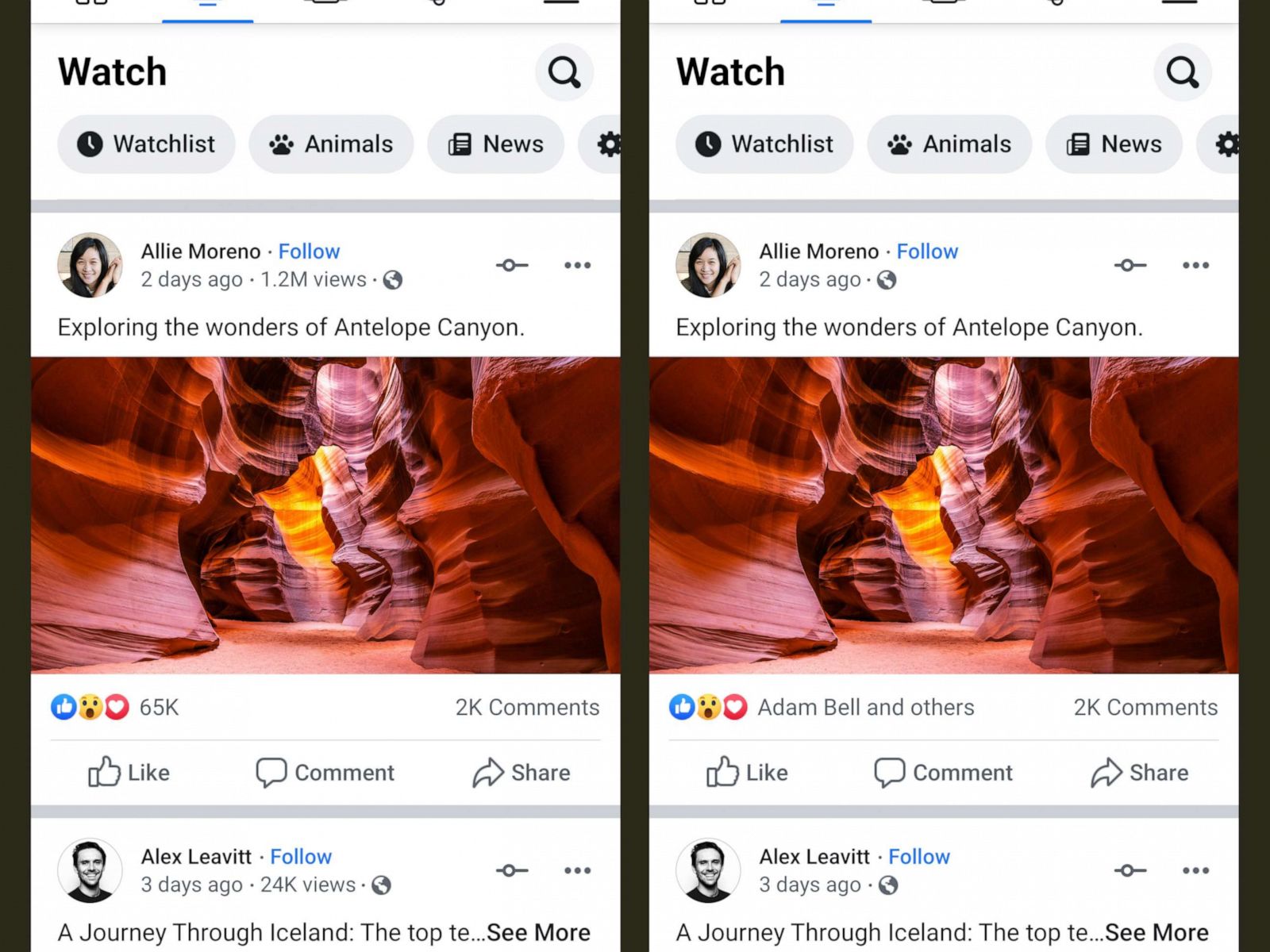 Image: What hidden like test will look like. Photo taken from ABC News
So, where do we go from here? Experts will tell you that this step by Facebook, however much it appears strained, is the best they could take to salvage the world from the savage addiction of social media fame competition that we have deeply sunk into. People begin to lose sanity and sleep when they get only a handful of likes while others garner millions of them, and it has become a concern for any owner of a social media platform.
Hiding of likes on this vast platform will be a good starting point for all people who view it as a stable platform for marketing themselves. The few displayed views and likes will, on the other hand, not be looked at as a measure for success. In short, everyone will be equal or near equal as far as the count of like is concerned. And those who like to buy likes will meet their end with this feature; because, why buy something your followers or the public will not see? This is, as already said, the most significant step Facebook has taken to rebuild the lost authenticity of their platform.
Before this step, social media users measure their self-worth and that of their friends and followers using the number of likes, and it became a primary psychological concern for everyone, based on the fact that sometimes those with more likes had minimal content and those with fewer likes had great content. Today, we might not really understand why Facebook took the big step. But tomorrow, we will be grateful that Facebook did its part in providing a less-pressurized social media environment for its users.
Date: October 17, 2019 / Categories: News, / Author: Disturbinsilence