Creating an Instagram profile is quite deceptive. There seems to be nothing else than taking a picture, uploading it as your DP, and spicing it up with a few hashtags. However, with over a 100 Instagram profile created with this method, 80 percent of those struggle to attain the right follower base. If you've tried the simple approach used by most people, you should know that using simple Instagram features won't get you tons of likes and followers overnight.
The perfect Instagram profile is one that's unique and looks different from that of everyone else. Whether you're looking to become an Influencer, build a brand, or become a celebrity on Instagram, few strategies will help you achieve that, and it all starts with your profile. Because in reality, the first thing most followers look out for is your profile and a few selfies underneath.
By tweaking your profile, you get to increase your follower base and get likes like never before. Before rushing your profile creation process, take a few minutes to read this post on how to create an Awesome Instagram profile.
Starting With the Basics
The minute you decide to launch on Instagram, you have to make some smart decisions concerning the basics of your profile. The first decision you have to make is that of your username.
Image: Business name of a recycled denim and organic cotton vendor. Screnshot taken on October 10, 2019
When creating an Instagram profile from scratch, you will discover that you have an option for two names: one is your username, and the other is your Instagram name that displays underneath your username in searches. Considering the number of users on Instagram, you have to dig deep to find a unique username. Most people are forced to make a change when they discover that their preferred username is already taken.
When that happens, try to tweak the username a bit by adding either numbers or characters. Whichever one you go for, ensure its one that's easy to remember and connects with your profile instantly. In some cases, you can also choose a changeable name that corresponds with your brand to make it easier for people to find you through searches.
Use a Personal Photo as Your Profile Image
Your profile photo is that photo followers see when you share an image. Have you cared to ask why most celebrities never use photos other than theirs as their profile image? This is because it helps your followers identify you. With a lot of fan pages on Instagram, it's hard to locate the official handle of a celebrity except for the number of followers.
For brands looking to build a brand on Instagram, logos help distinguish your brand from others. It also creates a connection between you and your audience. We all to that there's an exception to using a face as your profile picture. For instance, in the case of large companies like Adidas, Nike, and Facebook, using a look rather than a logo will get people wondering if they're in the right account or just a fan page.
However, if your brand is you, you need to be judged as a serious and trustworthy person. Whatever choice you make, your bio needs to give more details about what you stand for.
Choose Your Words Carefully When Writing Your Instagram Bio
Image: @totallybamboo business page and bio introducing their eco-friendly bamboo housewares. Screenshot taken on October 10, 2019
You got just 150 characters to put up a sizzling bio. Hence, you have to choose your words carefully. Use short sentences that say all about your business. Leaving no stone unturned in explaining what you or your brand stands for. Use this space to tell people what you do, how you do it, why they should follow you, and how to get in touch with you.
From observation, most people flop at creating a sizzling Instagram profile. Messing the space up and losing their opportunity to get easily noticed by those that matter. If you're struggling with how to create a captivating bio, you can ask for help from few friends or open as many Instagram account as you want to see how theirs were written. However, this isn't recommended since most bios are scripted with no purpose in mind. That of your favorite celebrities is not left out.
Choose Your Business Category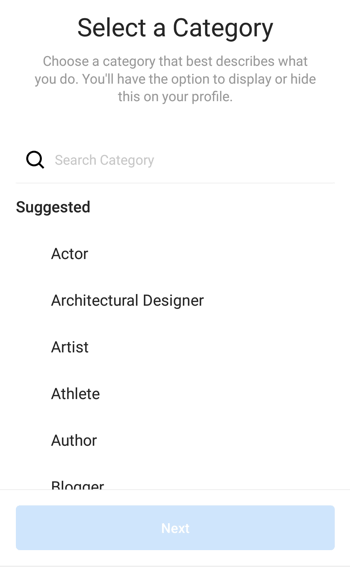 Image: Categories for a Business Profile. Photo taken from Social Media Examiner
When launching a brand on Instagram, it's essential to choose a category that matches what you. Are you a blogger? Fashion Designer? Entrepreneur? Or a Freelancer? A business account tells your viewers more about what you do. However, to be able to do this, you have to log into the Instagram App on your mobile device to add a business category.
Make It Easy For People to Contact You
Image: OrganicblendProducts Bio with Contact Details. Screenshot taken on October 10, 2019
It's possible to add your contact info in your bio. However, that will be taking up a lot of valuable space because there's a menu dedicated to that. Under your business account, it's possible to add a link to your email address, phone number, or even click to Whatsapp link where followers can chat with you personally.
In addition to the phone number, you can add your contact address. But if you work from home, that won't be necessary, and neither is it advisable to leave the space empty. Add your state and city. This will be shown under your bio makes it easy for people to contact you whenever they need your service.
Make Your Profile Public
Image: Changing Instagram Profile Privacy. Photo taken from AdWeek
To gain more followers on Instagram, you must first ensure that people see your post. What's the essence of going through all the troubles when no one sees it. To ensure your profile is visible to the public you must set your profile to public and not private
Conclusion
With millions of users on Instagram, it's easy to get easily noticed, provided your profile is well optimized. Put the space you're given into use and utilize all the fields offered to make your profile one that's hard to ignore. Avoid rushing things when setting up a profile. It doesn't matter whether it took you 20 minutes or 24 hours. The most important thing is to get it right.
Date: October 11, 2019 / Categories: Guide, / Author: Disturbinsilence