Everyone is saying that posting Instagram Stories is a great way to drive engagement, and maybe you're wondering how other businesses do it. You get a lot of story views, that's for sure, but how do you encourage the viewers to actively engage, or in other words:
Tap to see your next story.
Reply to your story.
Take a screenshot of your Instagram story.
How do you get your followers and story viewers to do these things? I'll give you a few tips that have worked for countless brands, businesses, and influencers.
Cue followers to "tap for more"
One way to encourage Instagram engagement is for the viewers to tap to see the next story, so the most straightforward thing to do is to ask them to "tap for more." You can add an arrow and text to your Instagram story to prompt viewers to tap right to see the next segment.
Although the next story will automatically start after 15 seconds, adding a prompt will make story viewing less passive (and boring). When users just watch the story span to the next story, there's a tendency that they'll get bored and will exit and swipe to the next profile's story before your Instagram story series has ended.
Image: Tap for More Instagram Story. Photo taken from Alextooby
When you add a prompt for viewers to tap for more, viewers will get a sense of control since you have moved them from being passive to having a more active role in the viewing process. With the right text, you will also spark their curiosity which will make them want to see your next story segment.
Publish screenshot-worthy stories
You can drive Instagram engagement when you deliver content that users would want to screenshot and save on their phones. Below are some content ideas that will help you achieve this.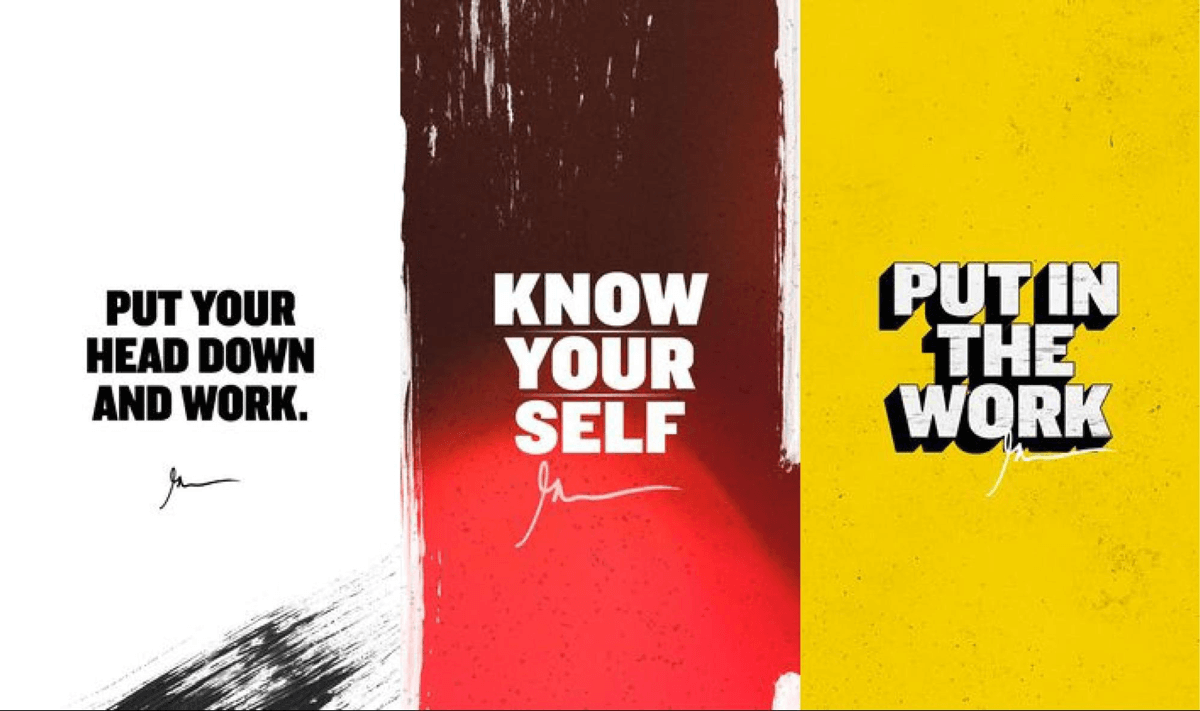 Upload wallpapers: You can create and design wallpapers for phones that users will find attractive. They can take a screenshot of your story and use it as a wallpaper. Before you start giving your viewers the wallpapers, begin with a slide that gives them a heads-up: "Do you want some cool wallpapers? Get ready to take a screenshot."
Image: Wallpapers for Instagram Story. Photo taken from: Social Media Examiner
You don't need to be a graphic designer to pull this off. Anyone, regardless of the industry they're in can use Instagram stories for their business in this way. You can use image editing tools and inspirational quotes with simple yet elegant backgrounds, or hire a graphic designer.
Create lists: Lists are practical, easy to remember, straightforward, and they make for a great Instagram story that viewers would want to take a screenshot of and save on their phones.
Lists help you sum up a series of tutorial videos you posted, or it can provide a step by step guide to doing something. Recipes are also a type of list you can upload as a story and encourage followers to take a screenshot of.
You can create excitement and build up curiosity for your screenshot-worthy Instagram stories by employing the first tip where you prompt your users to tap for more. For instance, if you're sharing a no-bake cheesecake recipe, you can start with a slide that has a delectable picture of the cheesecake, and add the text, "Want the recipe for this? Tap right and take a screenshot!"
Post-hold-to-read contents
When you hold a finger on an Instagram story, the 15-second interval pauses, and the next story segment won't start. You can ask your viewers to "hold to read" when your story has text that they can't read in less than 15 seconds. Give them a heads up so they won't get frustrated for not being able to finish reading.
Image: Instagram story that would enable the post hold. Photo taken from Alextooby
This is also a great way to increase the time spent on a Story. Aside from writing a long paragraph and asking your followers to hold to read, another variation is to upload two similar images side by side and ask your followers to hold and spot the difference. You can also upload one image and ask them to hold and spot a specific item. It's a fun way to get engagement from your followers.
Strike up a conversation
You can have a conversation using the Instagram question sticker. It doesn't even have to be anything too fancy or deep:
You can take a picture of a product and ask a question about it.
If you're into product reviews, you can take a selfie and ask what products your followers want you to review next.
If you have a daily theme such as Throwback Thursdays and Fab Fridays, you can post a question related to the theme. For Throwback Thursdays, you may post a screenshot of a classic movie and ask your followers if they can name the title of the movie.
Image: @thinkific Instagram question on their logo. Photo taken from Later
When your followers answer, make sure to reply so that they will know that you are paying attention and that their opinions matter to you. The question sticker is one of Instagram's most powerful features as it lets you get to know your audience, which ultimately helps you craft targeted content just for them. 
Prompt followers to turn up the volume
Most Instagram users watch Instagram stories with the sound turned down or muted, so if you upload a video as your story, ask them to turn the volume up.
Image: Instagram Music. Photo taken from Instagram Press
You can do this by adding a text that says, "Please listen," or a more straightforward, "You need to hear this," then add an icon of a speaker or the up volume button. Make sure that the content you deliver is worth their time though.
Persuade followers to send you a DM
You have to encourage your followers to send you a direct message so that you can build a relationship with them, and try to convert them. Instagram stories can be used to persuade your followers to send you a DM, and here are some ideas:
Give away a free download: A lot of marketers do this in exchange for people's email addresses. "DM me your email to get a free copy of the ebook!" It doesn't even have to be an ebook. You can share a worksheet, an audio recording, or any downloadable material that will give value to your followers. Sure, you can always put the downloadable link on your Instagram story and ask the viewers to swipe up, but a call to action (specifically to DM you) is effective at driving engagement and building a relationship.
Conduct a survey: Before conducting a survey, you need to determine what your goal is. Will the survey be for entertainment only? Do you want to get your follower's feedback on something? Is it for you to get to know your followers?
After defining your goal, you then need to decide what type of survey you want to create — multiple-choice or open-ended surveys? Either way, followers will need to take a screenshot of the choices, mark their answer, and send it to you via DM. Instagram makes this easy since they have a poll sticker for Instagram stories and you can use this for your surveys.
Once you receive a DM from your followers, make sure to respond and keep the conversation going in order to build a relationship. This is a great opportunity to get to know your audience and move them down the sales funnel.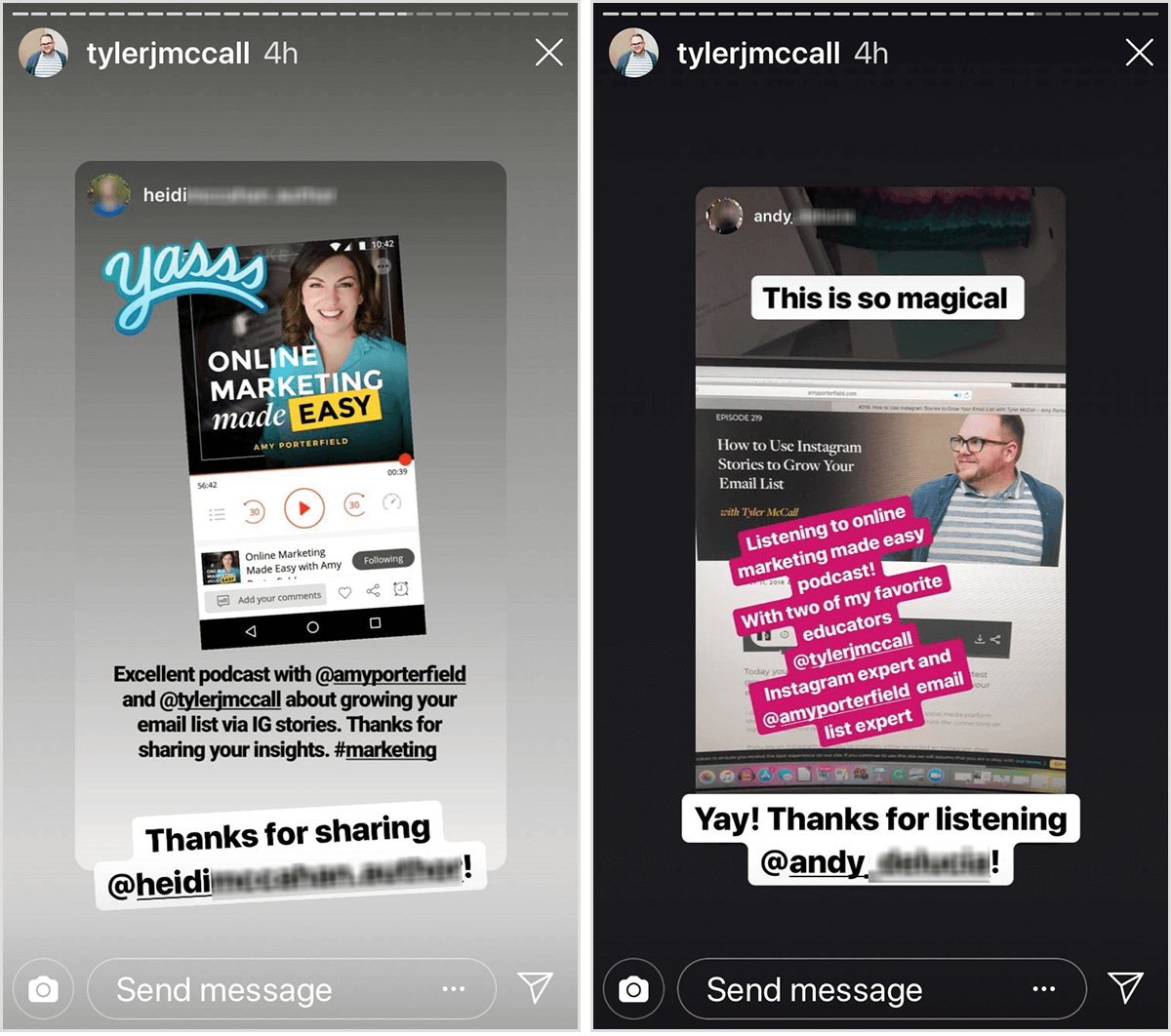 Image: Responding to a Follower. Photo taken from Social Media Examiner
Recap: Encouraging your followers to actively engage with your Instagram stories
The Instagram story feature is a powerful tool for businesses to use as there are millions of people who watch stories every day. I enumerated some way to make the most of your Instagram stories and get your followers to engage with them, and they are:
Cue them to tap to see more.
Publish screenshot-worthy stories that followers can save on their phone.
Post long content and ask readers to "hold to read."
Strike up a conversation using the question sticker.
Let your followers know they need to turn the volume up.
Persuade your followers to send you a DM by conducting a survey or offering downloadable material.
Stories already capture your followers' attention, but doing these tactics will make your Instagram stories even more effective.

Date: September 16, 2019 / Categories: Engagement, / Author: Disturbinsilence