You probably have exhausted yourself researching for ways to make your business successful on Instagram, and everyone is always telling you to increase Engagement. Build relationships with both existing and target clients.
How exactly do you do that? Let me help you out with some tips.
Don't ignore your followers
This is the first on the list of "don'ts" in social media marketing, but quite a lot of businesses actually do this. Either they don't respond to follower engagement right away, or they don't respond at all. Remember that you put a lot of effort into publishing content on Instagram because you want to gain the attention of your followers. Once you have their attention, you will have the opportunity to convert them into buying customers, so never ignore comments or questions posted by your followers.
As a matter of fact, a good Instagram marketing approach is to add calls-to-action or CTAs in the captions. Invite them to share their thoughts on a certain topic, or ask them questions. If they respond, comment back and keep the conversation rolling. You can use Instagram features such as:
Question stickers
Poll stickers
Emoji sliders
If these tools are used correctly, you can get your customers to share product reviews or get insight on what content they want to see, all while entertaining them.
Cross-promote content and promos
A successful social media marketing plan relies heavily on connections, and you can't just get that from Instagram alone. A large part of your target market maybe somewhere else, like on Facebook, YouTube, or Twitter, so it will do you good if you cross-promote to other social media sites.
If you're doing promotional offers, for instance, you can post about it on Facebook and encourage them to follow you on Instagram as part of getting the promotion.
Marketers also find it effective when they tap other brands in a collaboration. You get to reach out to the other brand's followers and increase your reach.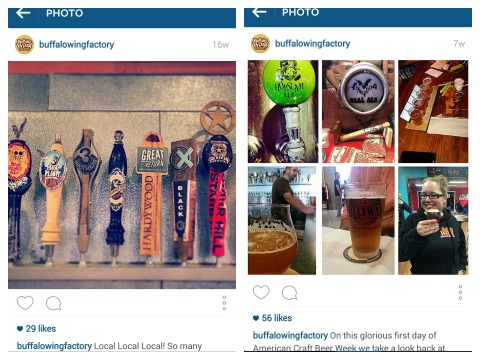 Guide buyers with Instagram stories and stories highlights
Did you know that around 400 million users watch Instagram stories every day? Stories have helped catapult Instagram into more success in the past couple of years. You can use Instagram stories to, well, tell stories, and at the same time guide buyers with the right text overlays, swipe-up links, and other tools Instagram developed exclusively for their Stories feature.
You can also create stories highlights to categorize your content or products. Highlights will be one of the first things profile visitors will see, so make sure you organize them properly. Take a look at how Victoria's Secret uses Instagram stories highlights to showcase its products and events.
Keep up with the latest trends
The boon and bane with social media is that it's constantly evolving. Marketers will always have fresh sources of ideas, but it can also be challenging to keep up with the constant changes. Still, you have to keep up with several things including:
Design trends
Instagram's features and tools
Memes
Yes, you have to keep up with memes. There are types of content that may have been interesting, funny, or relevant during the previous year, but if you post them today, your followers will just scroll right past it. You also have to take note of the designs, color scheme, and text fonts that your competitors are using.
Instagram also keeps updating the platform with new tools and features that can be beneficial to businesses. The platform's shoppable tags, for example, have made consumer in-platform shopping experience great for consumers.
Use links wisely
The unique thing about Instagram is that you are only allowed to add one clickable link, and that's in your bio. You can't share live links in the captions, which is limiting since you can't easily direct your followers to your shopping website.
Therefore, make sure that the link you use counts. Depending on the industry you're in, you may put in the landing page of your website or change it based on your content. There are also Instagram tools like Linktree that can help you optimize your one chance at putting links in your Instagram profile.
You can also add swipe-app links to your Instagram stories, but that's only if:
You have a business profile you use to create ads.
You have a verified account.
You have more than 10,000 followers.
Links in the bio and stories should be clickable for mobile viewers, and you should accompany them with catchy images and persuasive CTAs.
Improving your Instagram engagement
Every business has its own style and voice, but it doesn't mean you can't experiment and diversify. Listen to your followers, reach out to them, and ask them what type of content they want to see. If you can't do that, then you can always turn to analytics and see which types of posts had the most engagement.
Looking at the numbers is another way of listening to your followers. If they don't like what they see, your engagement indicators would be down, and that tells you that what you're doing doesn't work.
Date: August 17, 2019 / Categories: Tips, / Author: Disturbinsilence